Illinois Numismatic Association (ILNA)
---
Promoting Numismatics in Illinois Since 1959
Springfield Coin Show-July 24th, 2022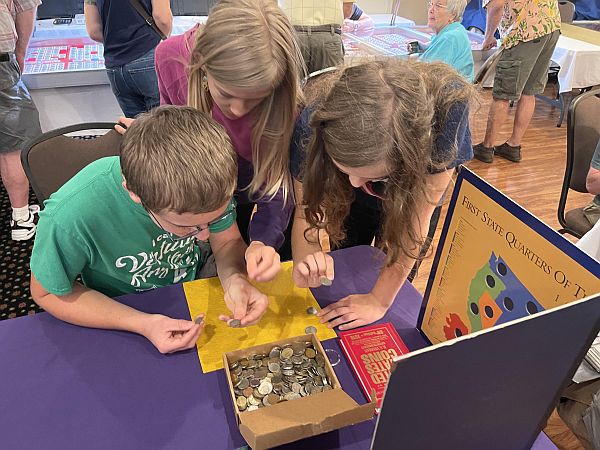 YN's sort coins in the coin challenge
A report by John Kent
Let me start by thanking Stephen Butler for inviting ILNA to their show, first show in 2 years! ILNA Governor Jim Ray and his wife Su help get the ILNA education table set up before the show opened at 9am. Governor John Kent arrived shortly thereafter with a couple of ILNA education volunteers, Art Schattke and Tom Canoles. We had about 15 families come by the table that morning and we helped kids use the Coinoscope app to identify world coins, and the Redbook to identify buffalo nickels. For more advanced collectors, we had a guess the grade contest on PCGS, NGC, and ANACS slabbed coins.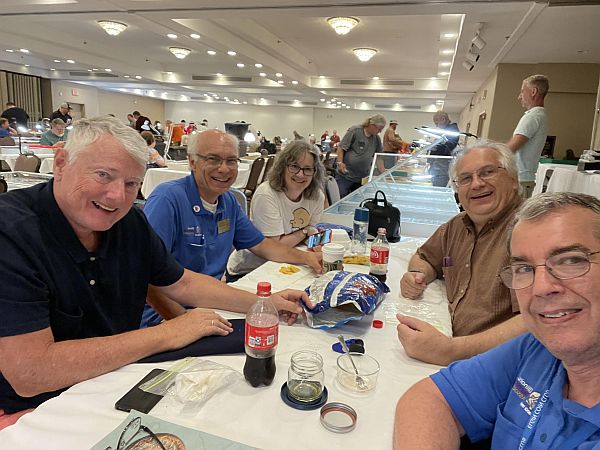 ILNA Table at Springfield
After the morning rush, all the volunteers enjoyed a picnic lunch at a vacant table, and we showed off some of our own purchases from local dealers. Art found some tokens and medals, and Tom found some early American coins.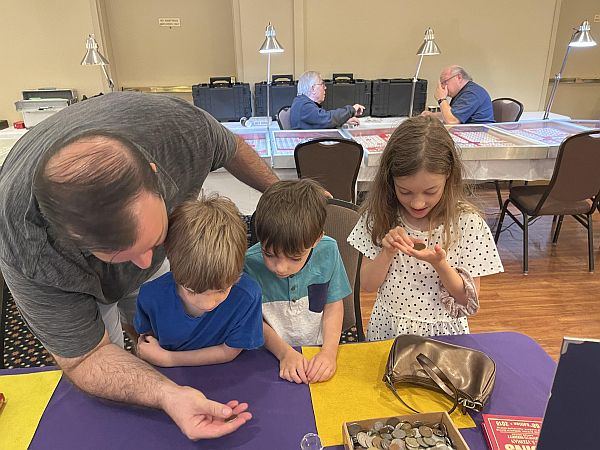 YN's looking at coins at the ILNS table
After the show, we all got together again for an ILNA board meeting where we discussed our next issue of the ILNA digest and having educational tables at other Illinois coin shows. Then it was time for the long ride home to the Chicago suburbs, but even that proved to be memorable, as Tom and Art both invited me in for a snack and a peek at their coin collections. Now I am already looking forward to the next coin show in Crystal Lake, IL where ILNA will have an education table. But wait! There's more! Springfield will have another coin show November 12 and there will be a Youth Auction that ILNA can donate items. We're all looking forward to the next show!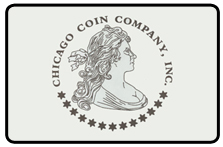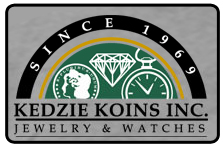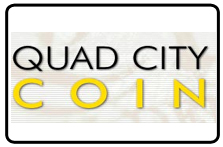 To become a sponsor of the ILNA web site or Annual Show, contact
Jim Paicz